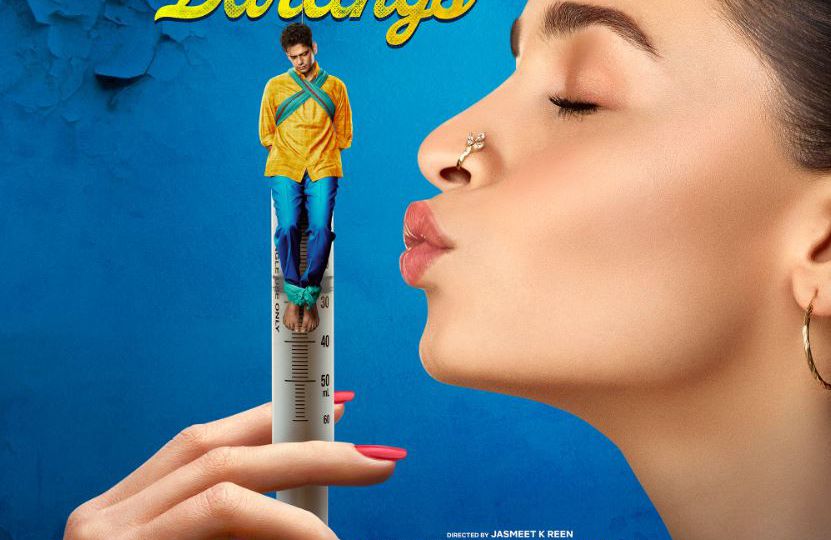 Darlings, a recent Netflix release featuring Alia Bhatt and Shefali Shah and their endearing performances, wins our hearts. In the poster of the movie, we see Alia Bhatt pouting at a syringe she is holding, and Vijay Varma stuck at the top of it. The poster hints at multiple plotlines to the audience. I will refrain from delving too much into the plot so as to avoid spoilers. The movie is neither 'old wine in a new bottle' nor is the plot unforeseeable, but the narrative is impeccable. Darlings, with the narratives of Badru (Alia Bhatt) and her mother, Shamshu (Shefali Shah), illustrates the story of ordinary women in India who are struggling to change their discourse, deconstruct their reality, and imagine miracles. But, while they might fail, Badru conquers. Badru becomes the voice of thousands of voiceless women but I demand to know, why do we need our women to turn into rebels and fight for survival? Rather, don't we need the deconstruction of a social reality that justifies a husband's 'masculinity'? I often ask myself this, and I am yet to find an answer.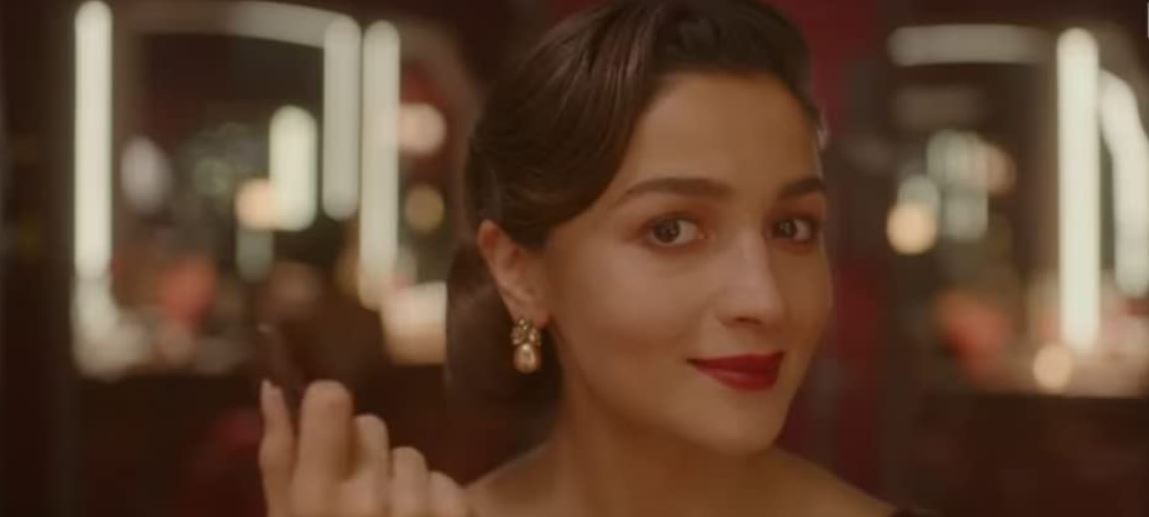 Alia Bhatt in Darlings (2022). Source:IMDb
As the story unravels, the depiction of the women's desire and sexuality is admirable. Badru, a young woman, is married to her love, Hamza (Vijay Varma), and expects to explore her sexuality with him. In the trailer, we see her wearing a crimson-coloured seductive dress and red lipstick, and posing like a 'queen of seduction' while opening the door to her husband and the scene turns comic as she unknowingly opens the door to one of the old neighbours. Her mother, Shamshu, a widowed, independent woman, fantasises about an intimate relationship with a young man who lives in their neighbourhood and invites him to assist her with odd jobs like fixing the kitchen fan, help her make social media videos, etc. I admire how the story revolves around the journey that two women of different ages have embarked upon with the hope of 'imagined worlds'. In order to understand their situatedness, I borrow from Arjun Appadurai's 'imagined worlds' (1996). This is a concept with which Appadurai explains how, in the context of modernity, technology and cultural globalisation, multiple worlds are constructed within the historically situated imaginations of people and groups that surround them, and these worlds are shaped with chimera, aesthetics, and fantastic objects that individuals or groups imagine having in reality. Badru, like her mother, envisions a child, a home and a non-violent loving relationship with Hamza. But her dreams are dashed when the real world arrives. Darlings positions the hopelessness of an ordinary, young woman's destiny within a melodramatic turn of events.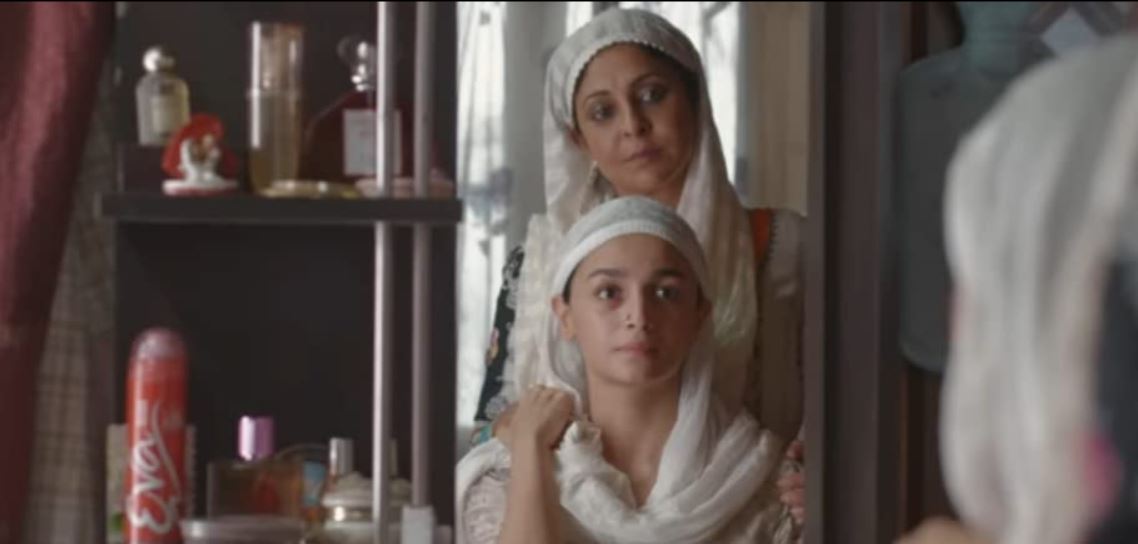 Alia Bhatt and Shefali Shah in Darlings (2022). Source: IMDb
Bollywood never fails to offer a perennial, inspiring, loving bond between a mother and daughter, and Darlings begs no difference: Shamshu combing Badru's hair, the two of them reading each other's facial expressions, helping each other out with cooking, shopping and bargaining, sharing everything like friends and depending on each other. Despite this typical Bollywood plotline Darlings is not a conventional love story, but the portrayals of different stories enmeshed with love, feelings, and desire make it nothing less of a love story. The plot centres around the Mumbai-based couple and the trajectory of their post-marital coupledom which further indicates how urbanity shapes the repertoire of the practices of intimacy − seducing her husband by wearing a red dress, calling each other "darling", marrying self-chosen partners, and standing up against domestic violence fearlessly. In Appadurai's terms (1996) it would be 'ethnodrama' – how the dramatic structures of these characters are fabricated by certain strands and subtleties of the city's ways of life. In a similar vein, director Jasmeet K. Reen states in an interview that "Mumbai is a big city where everyone dreams big."
Indian movies, no matter how much they delineate suffering, pain, and heartbreak, never fail to grasp the factors that lead to the wellbeing of their characters. Darlings captures the comfort these characters experience that differentiates their well-being from their suffering. In the song 'La Ilaaj' , there is an interplay of multiple emotions within the different relationships – the loving bond between Badru and her mother, and Badru and her husband. Darlings also touches upon the happiness and wellbeing that singlehood can offer. As a single-mother, Shamshu embraces her singlehood and enjoys every bit of it.
As the movie proceeds toward the climax, I realised how Indian movies bridge the gap between 'social reality' and 'imagined worlds'. Rachel Dwyer (2000), in her book about sexuality and romance in modern India, articulates that 'Indian cinema' is melodramatic, and brings utopian solutions to our collective consciousness. Cinema has always been an escape for audiences and they expect a 'plot twist'. Eva Illouz (2013), puts forward the idea that we accept unrealism in cinema to evade the sufferings we encounter in reality. The plot of Darlings is not unpredictable but relatable to contemporary social reality. Not just Darlings, Indian audiences witnessed the manifestation of 'imagined worlds' through movies like Bulbul, Thappad, Dangal, Mardaani, Guilty, etc. I stress on the term 'imagined worlds' and look at it from the gaze of oppressed and marginalised communities. Indian cinema captures one slice of the crude reality of women's lives all over the country and yet, most of the time, women remain muted, scared, and voiceless. The social reality remains unchanged, unresolved, and grotesque. One of the dialogues I remember, is where Shamshu asks, 'Yeh marad log daaru peeke jhallad kyun ban jaate hein?'(Why do men turn into monsters after they drink?) and the cop answers, 'Kyunki aurat banne dete hein' (because women let them). Rather than teaching men to respect women's rights, in most patriarchal families, women are held accountable for men's behaviour. Badru and Hamza are contemporary couples who address each other as "darling" but the reality of their union shows how women still defend abusive behaviours, and many Indian movies have shown sexual assault and harassment in the guise of rom-coms. Popular movies that have romanticised harassment include Kuch Kuch Hota Hai, Dilwale Dulhaniya le Jayenge, Dil, etc. However, in recent years, Indian films like Darlings, Thappad, Guilty, Mardaani, etc. have begun to question everything, and perhaps tomorrow we will have some answers.
References
Appadurai, A. (1996). Modernity At Large: Cultural Dimensions of Globalization.
University of Minnesota Press.
Dwyer, R. (2000). All You Want is Money, All You Need is Love: Sexuality and Romance in Modern India. Cassell.
Illouz, E. (2013). Cold Intimacies: The Making of Emotional Capitalism. Polity Press.
Cover Image: IMDb