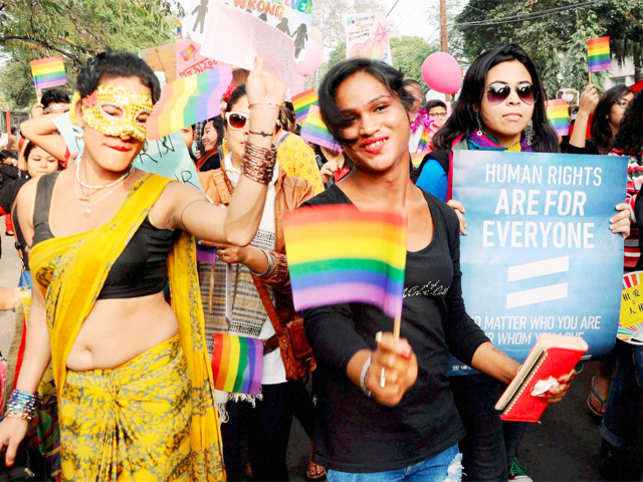 Till the early part of 2008, my friends and I were clueless about homosexuality. Transgender people, chiefly transwomen, were not beyond our ken, but gay, lesbian, and bisexual were rather alien concepts. It was the Dharma Production's Dostana that caused a stir amongst us for the first time. Despite the film's subtext, which is about a space where being queer is as "normal" as eating, drinking, and sleeping, the film, undoubtedly, failed to create a lasting impression on the inhabitants of the small town where I was born and brought up. Nor was it a serious or sensitive movie on gay relationships.
Sex, for many, is not a convenient topic to start a conversation with one's parents. Discussions about sex are hush-hush and talking about sex and sexuality in the public space is often considered dirty. When somebody argues in favour of sex, it makes people's blood boil. Anyone who deviates from so-called "normative behaviour" is scorned. Because of the misrepresentation of the LGBTQI community in the media, most people end up confusing sexuality with gender. Sexuality was ignored in the syllabus in the institution in which I studied. Homosexuality made its entry only in the Literature class when we were taught Shakespeare's love sonnets and Christopher Marlowe's Edward II. Ironically, for some of my friends who boasted about the subject, English Literature, that they majored in, homosexuality was something to be treated with disapproval and scepticism. A few students of English literature wrongly implemented theory in real life by queering friendship. Come on, two boys or two girls can be friends. Stop sexualising everything! Reading Sedgwick, Foucault, and Butler fails to enlighten ignorant minds. Of course, a little learning is a dangerous thing.
Things have not changed much since I left my hometown four years ago. Cities are different from small towns in many ways: not many know you, nor are you monitored, and you are your own boss. After shifting to Guwahati, I became aware of Xukia, a non-profit organization, which works with people of sexual minorities. Guwahati, the hub of the Northeast, is the centre-point of queer activism. The city welcomed the first LGBTQI pride parade in 2014.  This year, the parade took place at Dighalipukhuri in Guwahati on February 11. The effervescent people –supporters and activists – came out to celebrate "queerness" and to raise their voices against draconian laws. The colourful dresses, the beats of the drums, the rainbow flags, the banners, and the impatient balloons that were struggling against the grip of the holders' hands to paint the sky violet, indigo, blue, green, yellow, orange, and red coalesced into a vibrant space for queer as well as non-queer individuals. In spite of having different social, economic, and cultural backgrounds, what united everyone was a common, infallible purpose.  Pride parades are like a family gathering where you feel that everybody is born from the same mother. Speaking of mothers, queerness is inborn. It cannot be erased by offerings before thousands of Indian gods and goddesses.
Most of us are familiar with the Stonewall riots. The Stonewall inn was the cradle of the queer liberation movement and the advancements in gay and transgender rights would not have been possible if the seeds of the queer liberation movement had not been sowed.Our country is still under the tutelage of homophobia.Can't we make our pride parades more visible? Is Delhi the only place where the genesis of any revolution should happen? Why can't we have an Indian version of Stonewall in other cities and small towns?[1]There was a dearth of people in the recent pride parade in Guwahati. Queer awareness has not touched every nook and cranny not only of Assam but also of the rest of India. My queer brothers and sisters have a long way to go. Most people in semi-urban and rural regions are not aware of the fact that homosexuality is an orientation just as heterosexuality is one. Some queer people not only prefer to not come out of the closet, but they also do not raise their voice when it is demanded by the situation. Nor do they come to attend the pride parades. They are afraid of being exposed in front of people who have undergone turbulent experiences. Of course, it is one's individual choice to not attend the pride parades. Not only is one scared of exclusion but also of people's disavowal of homosexuality.Yet, one can have one's say at the pride parade and it may not involve coming out of the closet publicly. If one decides to attend and show support, it will, at least, disseminate information about queer existence. It may turn one's life upside down – one maybe criticised for supporting homosexuality publicly or banished from one's social circle. Yet, at the end of the day one will be remembered for the choices one makes to create change in the world that we live in. Though Rome was not built in a day, didn't thousands and thousands of workers work day and night from the very first day? If your one step – addressed to everyone irrespective of caste, class, gender, religion,  and sexuality –  is a giant leap for marginalised and oppressed people, Stonewall will not be far behind.
[1]By Indian version of Stonewall, I mean a mass mobilisation, with more protests and slogans.
Cover Image: The Economic Times