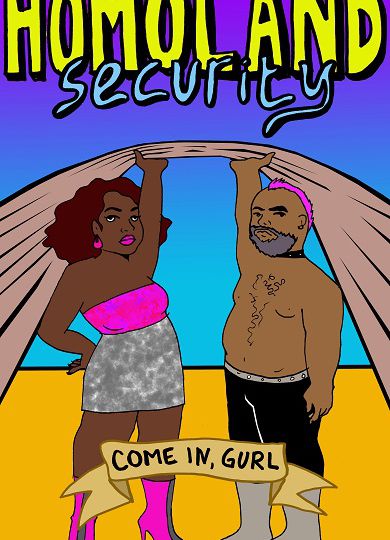 "Yo existo. I exist," asserts Julio Salgado's self-portrait drawn with wings that give him identity. Salgado was eleven years old when he crossed the border from Mexico to the United States where he remains an undocumented resident. Risking arrest and deportation if detected (though he's temporarily not deportable under Deferred Action for Childhood Arrivals), Julio makes art about his experiences of being a queer and undocumented person of colour.
"I came here when I was eleven years old. I didn't speak the language. I like to be able to talk, and not being able to communicate when I got here was a huge thing for me. From a young age, I was always the kid who was drawing in the back of the class. I realized that art was a way to make friends. You can say so much with a piece of art.
[slideshow_deploy id='9921′]
"You know, the whole undocumented and queer part, that was always there, but it wasn't like I was out to a lot of people in 2001. A lot of us who came from that generation, we were always told not to say anything. We were told: 'Be secretive.' You had to be really careful whom you told. If you confided in your counselor, they didn't know what to tell you. It was a secret, and I also connected it to my queer identity, which was also secret. I didn't tell a lot of people," he told Kyle Harris from Westword.
On his website, Salgado uploads colourful posters that emphasise queer, fat bodies of colour around themes of marginalisation, queerness, community and assertion of selfhood. He also regularly posts cartoons under the title Adventures of Bitter Fag.
---
All images are courtesy of Julio Salgado.

We curate videos and images based on our monthly theme, and credit and link back to their original source.