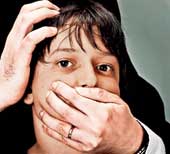 The Supreme Court upheld a lower court's conviction of two British paedophiles last week. But there are many other cases where foreigners pose as benefactors only to abuse the children under their care. Reena Martins on the menace of travelling paedophiles. Allan Waters and Duncan Grant had become quite a fixture in Colaba in Mumbai. The brooding Waters and loud talking Grant were regulars at the Mangalorean hole in the wall, New Martin, cockily giving their take to the press after the 2008 terror attacks on Mumbai.
Last week, the Supreme Court decided to spoil the party. It convicted the two in a child abuse case, overturning their acquittal by the Bombay High Court in 2008. The duo had been charged with sodomy and sexually abusing five minors in Colaba's Anchorage orphanage.
In 2006, Grant, a former British navyman, and Lieutenant Commander Waters, a former superintendent of the British Royal Navy's National Sea Cadets Centre in Portsmouth in the UK, were ordered to serve the remainder of their six-year prison sentence, after being convicted by a sessions court in Mumbai. Grant was the sole operating trustee of the orphanage, set up by a British charity organisation.
The apex court's judgment has come as a boost to groups fighting foreigners who sexually abuse Indian children, mostly from poor backgrounds. The UK-based ECPAT (End Child Prostitution, Child Pornography and Trafficking of Children for Sexual Purposes) says in its report, Off the Radar, published last month, that it has documented 120 cases of Britons sexually abusing children overseas over the last 20 years. Last year, a dozen such cases were brought to the notice of ECPAT from countries that included India, Cambodia and Romania.
In Goa, which has been repeatedly in the news as a hotspot for travelling sex offenders, the Children's Rights Group (CRG) had received 46 complaints since 2004 about such offenders, says its director, Nishtha Desai.
But with increased awareness and the implementation of the Goa Children's Act, 2003, sex offenders have turned more discreet. "Until a few years ago, they were often spotted with children on the beach and could easily be tracked," says Bernie D'Souza, managing trustee of Jan Ugahi, a child rights group.
The victims are mostly around nine or 10 years old. Many of them are children of migrant workers, "so poor, that even a chocolate would do the job," says D'Souza.
The perpetrators assume the garb of benevolence, as teachers, friends of the family or volunteers. In many cases, there is little to indicate that the perpetrators are paedophiles. Mumbai-based child rights activist Sangeeta Punekar, whose investigation into Grant's activities in the early 1990s led to Mumbai NGO Childline moving court, says he appeared to care for street children. "But there was something strange about him," says Punekar.
At a time when incoming calls to cell phones were chargeable, Grant gave the destitute street boys cell phones and Ray-Ban sunglasses. When Punekar, acting on a tip off, visited a shelter for street kids run by Grant in Rose Villa at Alibaug and Anchorage in Colaba, the boys described him as a brutal man, but information on sexual abuse was hard to come by.
Likewise, few suspected Swiss nurse Marie Lilli Marti, 66, who with her husband, Albin Wilhelm, 69, a former managing director of a Swiss drug company, was convicted in 2003 in Mumbai for sexually abusing two girls aged nine and 11.
"She looked like a nun — she even carried a Bible — but in the blue films the couple shot with the kids in it, she came across as a professional porn star," says Punekar, who was also instrumental in exposing the couple.
When the police raided their room in a resort in Mumbai suburb Malad on December 16, 2000, booked for "two adults and two children", they found all four naked.
The Swiss duo jumped bail in 2004. Though they feature on the websites of Interpol and the CBI, there has been no effort to trace them.
In Chennai, the police have secured permission to send Will Heum, a Dutchman facing trial for child sexual abuse and producing and uploading child pornography on the Internet, to a detention camp on the city's outskirts, where foreigners facing criminal charges are housed. This is in the event of Heum being granted bail during the trial.
In 1997, Britain enacted an extra territorial law to prosecute UK nationals for abusing children abroad. Its implementation, however, leaves a lot to be desired. "Despite …the fact that many of these individuals are known to authorities, both in the UK and in the country in which the abuse took place, these individuals often fall off the radar," the ECPAT report says.
The activists point out that India needs to take strict measures against travelling paedophiles. "The granting of bail to these sex offenders should be made more stringent," says Desai of CRG.
The activists feel that efforts have also to be made to ensure that witnesses don't turn hostile. In the Anchorage case, for instance, witnesses refused to give their accounts in court, largely because they were living in the home run by Grant. "It's difficult to testify against someone who's feeding you," says Punekar. To leave no scope for witnesses turning hostile, "action has to be very prompt, as victims feel more supported by the abuser than the system," she adds.
A minor girl who claimed to have been raped by an Italian in Goa turned hostile. As a result, the 2004 case was dismissed. The foreigner slapped a defamation suit on Jan Ugahi, the NGO that brought the matter to light, asking for damages worth Rs 6 crore. He now runs two restaurants in Goa.
The activists stress that the perpetrators often act brazenly when caught. All through the raid, the naked Wilhelm — he had to be told to put on his clothes — kept cursing the activists, saying, "You Indians, you are all corrupt and I can buy you."
Often enough, the abuser goes scot free. Their child victims are left licking their wounds, as the abusers move from one trophy to another.
The article was originally published here.