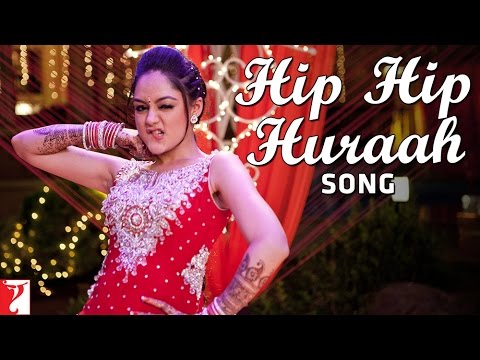 Recently, social media was abuzz with Robin Thicke's "Blurred Lines", a song and video that sparked many discussions on the blurring of lines between violence and consent in popular culture narratives.
The song sparked off many responses by groups that re-imagined and revamped it. The most interesting and bold according to me, was the one by a "Boylesque" group called Mod Carousel that blurred the lines of gender, power and entitlement further by reversing the way male and female bodies were presented in the video.
The discussion made me think about the many desi gems that we have had to contend with, closer home. As a trainer working with young people, I do often find references of songs, film characters and plots in how young people imagine their lives. The age-old trouble, particularly in Bollywood songs if presented very succulently in this poster: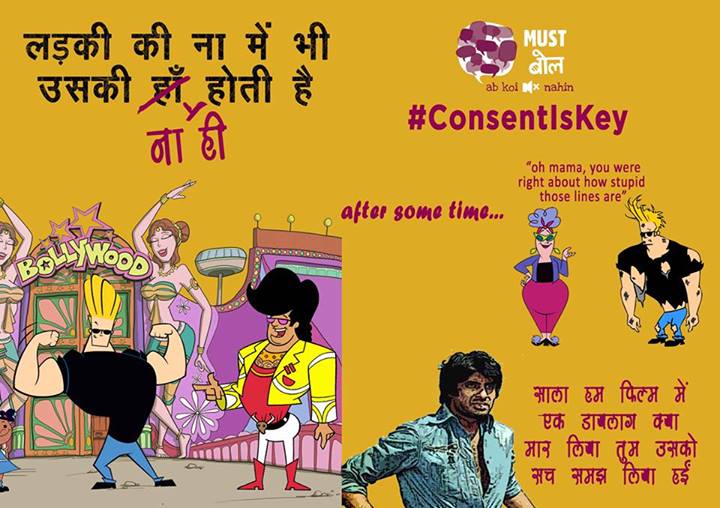 So perhaps some collective reflection on what we see will be an interesting way to start off this conversation. A few years ago, in an interesting twist, Director Siddharth Anand gave us a remix of the hit number Bachna Ae Haseeno replacing Rishi Kapoor of the original with his son Ranbir.
I grooved to the new hit number at many parties before I actually caught the lyrics to the rap sections added for the extra zing. I found them easily enough online, but reading them was an uneasy experience.
"Yeah! Baby When U See Me
Comming Yeah!
Yeah U Better Run For Cover
Yeah
Cos U Know When I Find U
Yeah
Yeah Im Gonna Be Your Lover…
…Bachna Ae Haseena
Lo Mein Aa Gaya"
Love wasn't the first thing that came to mind when I heard the song. Harassment, violence, rape; these were definitely among the first few. True, that the film is about a young boy who seeks pardon from women he earlier considered conquests, but that message somehow gets lost when we hear the song on radio, TV and the internet, and groove to its beat at parties.
A more recent example would be the lyrics penned by Irshaad Kamil for the film Phata Poster Nikla Hero. Filmed on Shahid Kapur, the song and actions would easily come under the current sexual assault laws in India, yet in the film, they are fun and frothy, in a "boys will be boys" kind of way.
Responses to this song from young men have ranged from calling the hero bindass and confident to calling him a harasser and the song idiotic. Obviously, different people perceive the song differently and it would be terribly un-wise to generalize.
Songs are often more popular that films and construct lives and meanings of their own. These meanings are as varied and diverse as the audiences who hear them. I do not at all feel that films and the images that we see have a direct impact on how we behave. The blame for violent or otherwise idiotic actions must lie squarely on those who commit them, and those who could have thought them better but did not. The education and interactions we create for young people must equip them to process information and make sound judgments.
In thinking about popular culture, we are also prone to the same generalisations that have plagued the gender discourse of political parties and moral brigades that brand all sex and sexuality as bad. We need to recognize that Sheila singing about her own jawaani is different from a Honey Singh, singing about the many ways in which he can violently assault it.
But while images of violence in music like in the two songs (Bachna Ae Haseeno and Agal Bagal) mentioned above continue to proliferate, we take issue with images of female sexuality as commodification and objectification.
At worst we become moral protectors of women's homour and at best, we are embarrassed much like the "respectable" family of the young women in Mere Dad Ki Maruti, when she chooses to sing of sex and not love to her husband at her wedding celebrations.
In today's age, consumers of media are entirely capable of making their own narratives that are more meaningful and diverse than the ones the kind that the media industry overwhelmingly provides, and publishing them widely. I found a great example of this in a Punjabi tune that I heard playing while shopping in a supermarket a few years ago. I have a fetish for lyrics and like to search out the lyrics and meanings of the melodies I enjoy. Much like many other Punjabi songs I like (and I must confess that some of them are by Honey Singh!) Yaar Anmulle had a great catchy tune and beats, but wasn't so likable after a lyric search.
Exuding a patriarchal nostalgia, the singer reminisces about the times spent with friends in college. It presents the stereotypical images of drinking, partying, staring at women, seducing them, riding bikes and having a gala time as parts of this youthful past.
A youtube search of the song revealed a "female version" with a somewhat different bent. When taken over by users, the song turned into a reminiscence of a different kind by women's bonds with each other and a message about sex selective terminations of pregnancies.
The proliferation of narratives in the digital age is creating newer meanings and identifications continuously. All we can do, is add more meaningful voices and ensure that young people are able to understand the media they consume and respond to it in more thoughtful and meaningful ways.
Pic Source: Let's Talk
इस लेख को हिंदी में पढ़ने के लिए यहाँ क्लिक करें