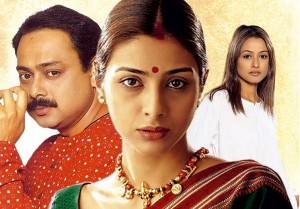 This month, we are featuring a song called 'Chal Chal Mere Sang Sang' from the movie Astitva (2000).
Astitva, which means Identity in Hindi, is a coming of age story about a woman who, late in life, seeks an identity of her own which is not defined by her relationships with men in the form of a wife or a mother.
Tabu portrays the role of Aditi, a neglected wife of an over ambitious man who is very chauvinistic in nature. The husband travels a lot because of his work and this becomes a frustrating and lonely experience for the newly wed bride. The woman ends up having an extramarital affair with Malhar, her music teacher, who shows her love and affection.
The video introduces us to the vivid images and fantasies that Aditi has. It also beautifully captures the sexual tension between her and Malhar.
You can find the Hindi lyrics here. The English translation can be accessed here.
We curate videos and images based on our monthly theme, and credit and link back to their original source.