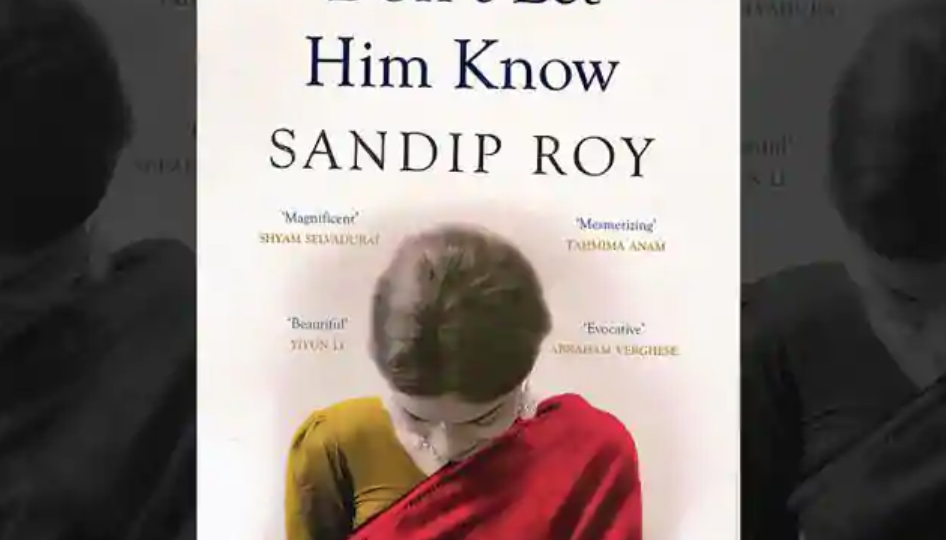 Primarily the story of a family with secrets, Sandip Roy's Don't Let Him Know (2015) presents to us a mosaic of narrative snapshots. This essay explores the use of silence in the novel not just as a narrative trope but as a queer rhetorical strategy to counter the heteronormative establishment. It further attempts to examine silence in its different shades and manifestations. Silence, in this context, can be studied by examining characters who have not been described enough, characters who perform their actions quietly, most malevolent actions narrated with calmness, locations characterised by noiselessness, streets and houses referred to as silent, and more importantly, characters withholding information from one another. The word 'queer' that I use here questions the fixity and definity[1] of gender.
Background
Section 377 of Indian Penal code which was recently read down by the apex court of India used to criminalise any 'carnal intercourse against the order of nature'. Though the draconian archaic law ceases to exist in the country, the colonial hangover can be noticed in the everyday homophobia that queer people face. Indian society prescribes compulsory heterosexual marriage. Any other relationship that falls outside the ambit of heterosexual conjugal lives is a taboo in India. Roy's novel, though not primarily about the legal implications of the anti-sodomy law on the characters, offers a gripping insight into how social taboo and dogmas about same-sex desire and activities can impact the lives of gay men and their families.
One of the stories in the 'composite novel'[2] (Dunn and Morris, 1995) is about Avinash, the closeted gay protagonist who gets married to Romola by forgoing his reunion with his longtime 'boyfriend' Sumit. Some of the other stories in the novel are about Romola's childhood experiences, young Avinash's man-crush on the barber, middle-aged Avinash being subjected to gay-bashing, their son Amit's experience in the US as an expatriate, and Romola revisiting the place in the US where she had earlier discovered the secret about the homosexual orientation of her husband from a letter written to him by his boyfriend.
The text under discussion is replete with many secrets where silence in its various manifestations is used to describe them. Sumit and Avinash, two principal characters in the novel, keep their homosexual orientations and love for each other a secret. This silence is symptomatic of the silence around queer issues in public discourse. Apart from some metro cities and big towns, homosexuality has been primarily considered non-existent in India.
Comforting Silence, Chaotic speech
Romola, Avinash's wife, keeps her brief courtship with actor Subir Kumar hidden even if she makes painful efforts to have a last look at his dead body. There is a constant silence about the 'relationships'or supposedly illicit relationships found in the text. In that case, silence is more comforting, whereas speech brings in chaos. The confrontation between Amit and his mother Romola regarding the mysterious letter happens in a hushed manner: "He wordlessly handed the letter to her." (Roy. 3) The letter is addressed to Amit's closeted gay father Avinash from his long-lost 'boyfriend' Sumit. Sumit complains about his betrayal and his marriage to a woman in the letter. But the second page of the letter that Amit discovers only spells out everything so ambiguously that Amit thinks it is a letter written to his mother by the man: "Romola sits there speechless wondering what to say." (Roy. 3) So, as long as silence is maintained things are good but once the silence is broken, it opens the floodgates of lies.
Silent house and empty streets
The dire need of many characters to hold on to silence is one of the characteristic features of the novel. A close textual analysis of the novel enables us to understand the way the silence within is reflected in the silence without. The microcosm is mirrored in the macrocosm. In other words, the emptiness and inadequacy of the characters are presented through gloomily silent landscapes. For some characters, the silence is calming whereas for others it is deadening. The different ways in which Amit and Romola perceive silence are probably because of the way they are culturally conditioned. Romola who is familiar with the hustle and bustle of Calcutta streets finds the empty boxy apartment in the US exceptionally quiet. On the contrary, Amit who has lived in the US for a long time looks for privacy and quietness which are markers of individualism. Whether it is the quiet house that Amit notices on his first Christmas in the US or the silent routine life of Romola and Avinash in their house in Calcutta, domestic spaces in the novel have mostly been described through 'spatial silence' (Esaki, 2016)
Conjugal relationships characterised by indifference
When Romola and Avinash are told to go out for dinner before their arranged marriage, they hardly create any sparks together. Even when they get married and are traveling to the US: "…she wanted to speak, but he seemed to have drawn curtains around himself." (Roy. 32). Silence, in this case, is withdrawal, somebody going into a shell. It is used here as a strategy to discourage somebody to get intimate. The gay husband here just provides the basics that a wife needs but does not indulge her. When Romola discovers that her husband is not just a simple nerdy academician, but a gay man with a mysterious past, instead of confronting him, she embraces silence forever. Their marital life is devoid of any romance and is mostly based on the mutual consensus of playing the socially expected roles of husband and wife. One of the reasons Romola stays in the marriage could be because of the "societal pressure and stigma attached to a Bengali middle-class divorced woman." (Singh, 2013)
Queer cues: subtle mention of same-sex desire and behaviours
The author seems to have conveyed very subtly the homosexual orientation of two different minor characters. The first one who dies of a 'mysterious disease' is Ramen babu, Romola's father whom the author describes as somebody who even after his marriage is involved with children by forming a cricket team and offering unsolicited help to them in the neighborhood. The other character Abhijeet, who commits suicide, is, a gay friend of Avinash and Sumit, who is married to a woman for a brief period. These incidents in the novel remind us of 'Silence equals death' that was used in the campaign for gay rights and increasing funding for AIDS research in the 1990s.
It seems like silence has engulfed everyone, but mostly the characters who are queer. Avinash's character has been portrayed in a way as if his repressed sexuality and unfulfilled romantic desires have left him mute. Romola often complains that her husband doesn't speak much on a usual day, but when his cousin or a friend is around, he chatters like a child. Heteronormativity compels one to observe silence. When Sumit visits Avinash at his residence after long years of the latter's marriage to a woman, the conversation between them reveals how gay men are obliged to family and succumb to pressure.
Even if some chapters are not queer-themed and can be read independently, one certainly realises that the melancholy of one chapter spills over to other chapters. There are descriptions of too many deaths, death rituals, women getting widowed, and mourning in the book.
Conclusion
Using silent actions and secret fulfillment of what society considers as sin and the law condemns as illegal, the text offers an example of the silence of resistance. Through the representation of silences of different characters, this literary text can thus be interpreted as almost revealing an implicit queer rhetorical strategy intended to counter the homophobic and heteronormative social discourse in India. Homosexuality is not silenced in these narratives; rather it is given a voice and therefore manages to make, though indirectly, its demand for recognition.
References
Brett, Esaki J. Enfolding Silence: The Transformation of Japanese American Religion and Art under Oppression. Oxford University Press, 2016. Print.
Butler, Judith. Gender Trouble: Feminism and the Subversion of Identity. London: Routledge, 2006. Print.
Dunn, Margaret, and Ann Morris. The Composite Novel: The Short Story Cycle in Transition. Woodbridge: Twayne Publishers, 1995. Print.
Roy, Sandip. Don't Let Him Know. USA: Bloomsbury, 2015. Print.
Singh, Kirti. Separated and Divorced Women in India: Economic Rights and Entitlements. Delhi: Sage India, 2013. Print.
Unknown."http://zoomin.s3.amazonaws.com/2015/08/03/12/37/35/750/ZI_Teacher_Guide_AIDS.pdf." n.d. http://zoomin.s3.amazonaws.com.Web. 13 March 2018.
[1]By the word definity I mean that queer people situate themselves in ambivalence and don't identify as either this or that of the binary.
[2]A form of fiction in which a particular story can exist autonomously, and can be read independently, but all the stories are connected to each other through the same characters who appear in different chapters. The plots, similarly, may intersect with each other.  Roy's novel can be considered as a composite novel, where each story can be read independently, but at the same time the book in its entirety makes sense too.