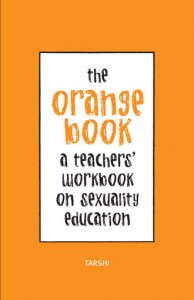 The Orange Book
A Teachers' Workbook on Sexuality
Workbook | 2010 | TARSHI

When it comes to sexuality education, teachers say, "These are such taboo topics, such sensitive issues – when we have hardly spoken about these issues ourselves, how can anyone expect us to talk about these with our students?" How can they become sexuality educators with little preparation or scope to explore their own doubts and feelings about these issues?
The Orange Book is a workbook for teachers with 28 exercises on imparting comprehensive sexuality education with confidence and ease. It is complemented by The Yellow Book: A Parents' Guide to Sexuality Education that is filled with tips and tools, information and advice on talking with young people about sexuality.
Cost: Rs 200/- Contact us to purchase a copy of the book. Schools and teachers may request for multiple copies at discounted rates.