Much of self-care is about going within, often considered a luxury for those who do people work.
On this page, you will find worksheets created by TARSHI that will take you on a journey of self-examination. The activities in this section will help you become more aware about your stress, thoughts, emotions and beliefs. They can also be tools for introspection if you allow yourself to dive deep within, guided by the questions in the worksheets.
As you open up, you might come face-to-face with some parts of yourself you didn't know about, or confront some choices you are not so proud of. While this might leave you uncomfortable, reflecting on them objectively is a part of personal growth.
We encourage you to open your hearts, quieten your mind, and be kind to yourself!
The worksheets are on a range of topics, from finding happiness in the small things, to understanding your stressors, from mindful breathing with body movement, to reflecting on your core values, from thinking positively about your sexuality, to dreaming of an egalitarian world. While all of these are equally important components of self-care, you could choose which one to do based on your mood and the nature of the activity.
Each worksheet opens as a PDF, and contains a few icons on the top right that will tell you what kind of a worksheet it is, how much time is it likely to take, how easy or difficult it might be – below is the legend to read the worksheet.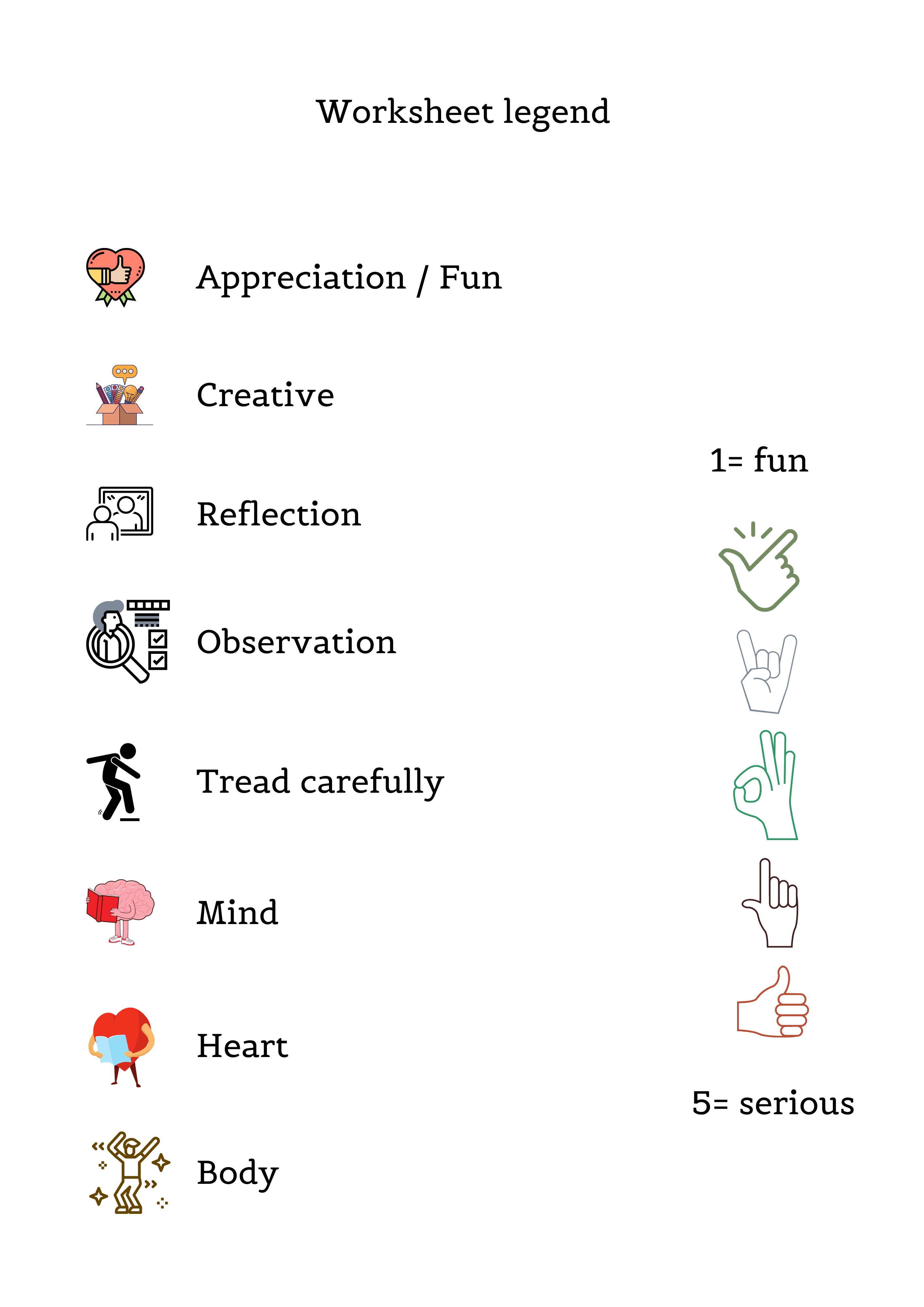 Before you jump into the worksheets, we want to bring up a couple of points.
The explanations or suggestions we have given on how the exercises can help are illustrative only, and how you use them is up to you!
Second, we are aware that some of these worksheets may not cater to the diverse caste, class and disability identities our users may have, or how well they understand English. For instance, some of them may require privacy to complete, and that may not be possible for all users. Or some may talk about activities that are not possible for people with different types of disabilities. This is why, keeping in mind the diversity of our potential users, we have attempted to include a variety of resources that do not assume our users' socio-economic locations.
Finally, we will be adding more worksheets from time to time, so do check out this space regularly!
So go on and try some of our worksheets!