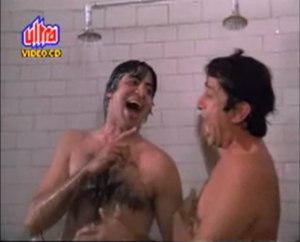 Amitabh Bachchan takes a bath with Shashi Kapoor, his brother in the movie Silsila. Kapoor mischievously throws the bar of soap aside and casually asks Bachchan to pick it up. Bachchan bends over in all innocence only to straighten up in realisation as Kapoor eyes his 'compromised' backside. Don't believe us? Watch for yourself how queer Bombay cinema actually is in these 'comedy' sequences.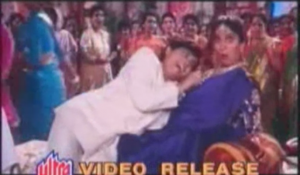 Madhuri Dixit's sister in Hum Aapke Hain Koun..! dresses in drag at a dance performance for women and proceeds to seduce her. A real crowd-pleaser. Quoting the video's description, "As they disappear under a quilt, a link can also be made to Ismat Chugtai's short story, Quilt, that is often quoted as one of the first instances of acknowledgement of lesbian eroticism."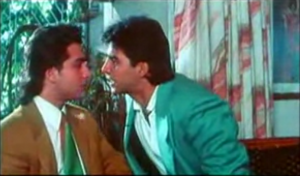 "This clip seems to gesture towards that familiar intimacy between men, even if physical and sexual, need not be translated or understood in terms of identities or even be remarked upon as unusual."
Akshay Kumar and Saif Ali Khan share a charged moment of possessiveness and eroticism as Kumar can't contain his jealousy.
Humour has its suggestive side; so much is in the eye of the beholder. Watch more of the Queering Bollywood series on Pad.ma, an online archive of text-annotated video material.